Restaurants & Bars
Grand Palladium Costa Mujeres Resort & Spa has 7 different thematic restaurants for you to enjoy the best gastronomic offer, premium quality products and 5-star services. The culinary wide proposal of Grand Palladium Costa Mujeres Resort & Spa stands out for his variety and excellence hard to beat: many different restaurants for every taste and crave.
An Italian Mediterranean gourmet restaurant, a Steak House for meat lovers and a Sports Bar style to enjoy our snacks service, an extensive menu of beverages, table games and sporting events broadcast live on our large main screen. The list includes two international Buffets and three excellent Asiatic restaurants: one Thai, one Indian and one Japanese, the last one counting with impressive live cooking shows.
For the ones who enjoy eating by the seashore, the sea lounge beach club restaurant offers delicious fresh savours together with excellent views. The cabaret restaurant will let you enjoy our vibrant nightlife surprising guests with amazing shows too good to be missed. For quick refreshments the hotel counts with two bars besides one premium quality coffee shop.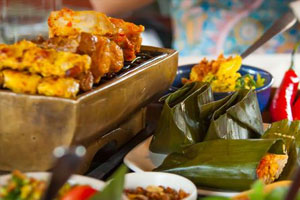 Chang Thai
Sweet, salty, tart and spicy… a perfect harmony is key. Dive into the delicious gastronomy of Thailand and discover Bangkok through each one of our exquisite plates. Curry, vegetable and rice dishes… a festival of flavors and sensations not to be missed. What is it that you´re craving for today? A succulent pad thai? A delicious tom kha kai soup? Or an intense green curry chicken dish?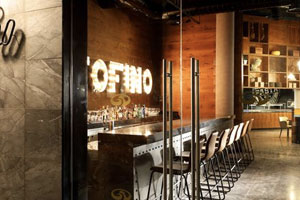 Portofino
Here, you will understand why Italian cuisine is the world´s favorite. From the interior design to the gastronomy, passing through aromas of tomato and basil… Portofino embodies true Mediterranean culture. Travel to Naples with a slice of pizza margarita, pass through Tuscany with a bite of bistec alla Fiorentina and visit the città eterna with each one of our delicious pasta dishes: pesto, amatriciana, alle vongole…Mamma mía!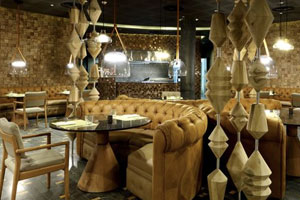 El Dorado
Calling all Meat lovers. Sirloin, ribs, rib eye steaks…every cut that you can imagine with that unmistakable smoked bar-b-que taste. Side dishes for all cravings and appetites, and a wide selection of wines to create the perfect blend of flavors. Surrender yourself to gluttony in our charcoal grilled meat sanctuary and allow yourself to be blown away after every bite at El dorado steakhouse.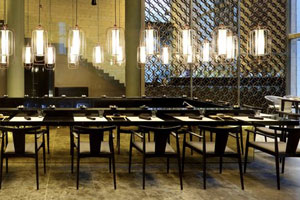 Sumptuori
Delightfully healthy. Nippon cuisine is based on the quality of its fresh products and the purity of its ingredients. Indulge in an array of sushi, sashimi, seaweeds and tempuras. Take a front row seat and experience the creation of your meal at the teppanyaki tables. Complete the night with a shot of sake, and then, put the cherry on top with an exquisite mochi.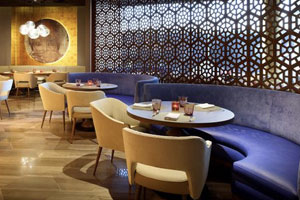 Bhogali
Spices, aromas and vibrant colors. Explore the gastronomy of India and savor each one of our chefs' creations: rice dish, samosas, naans, tandooris and traditional sauces bursting with flavor to perfectly accompany any meat, chicken or vegetables entrée. Allow yourself to be seduced by the masters of Hindu cuisine and taste this fascinating culture at our restaurant: Bhogali.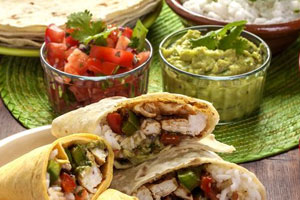 La Adelita
La Adelita tastes like Mexico. It tastes like corn, it tastes like beans, it tastes like avocado. It tastes like cochinita pibil, Yucatan-style pulled-pork. And why not? It tastes like tequila and pleasure. The pleasure of enjoying Mexican gastronomy, of surrendering to a parade of flavors dancing on your plate, blending together to create the perfect balance of lemon, salt and spice…Mexico has it all.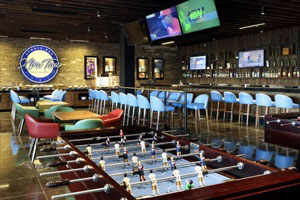 Xtra Time Sports Bar
24 hours. Because fans don´t have time limits. Nor do they have a limit for the passion they feel for their team…nor for their drinks. Don´t miss a thing. Stay till the final round. Xtra Time Sports Bar will always be open, with cold beer and appetizing snacks ready to be served.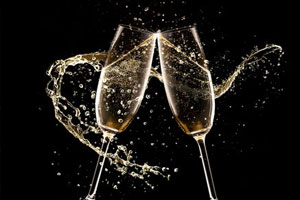 Eclipse Bar
Life tastes better with bubbles. At any time of day or night. From faint pale to bold golds. From the driest to the fruitiest. Enjoy an impressive menu full of renowned champagne and remember… Bubbles are forever.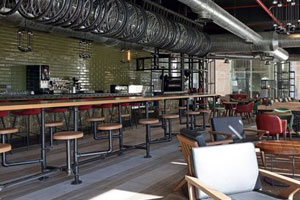 Piacere Bar
Arabic, Robust, from Colombia or from Kenya. Espresso, ristretto or latte, pleasure comes in a variety of flavors. There is nothing more intimate, nor more intense, than a warm cup of coffee. In our Coffee Shop we can satisfy any craving.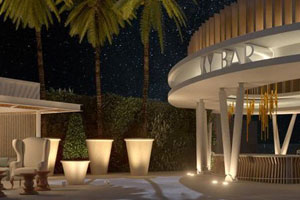 Eclipse Champagne Bar
For those who don´t want to miss a thing. Panoramic views to watch the sunset with a cocktail in hand and music playing in the background. Take pleasure in a social hour to share experiences and just let go.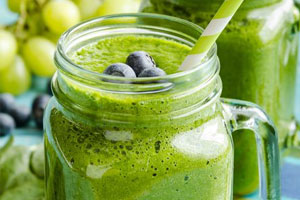 Healthy Bar
Water circuits, a massage and a revitalizing juice. Mango, apple, pineapple, carrot…made of fruits or vegetables, but always natural. The start and the end of a lasting tribute between the body and soul in our exclusive Healthy Bar.

** Exclusively for the clients of Zentropia Palladium Spa & Wellness 
Beach club Poseidon
Sunshine, music, flip-flops, and a cocktail. After all, you´re on vacation. You deserve it all. Spoil yourself with pleasure any time of the day and indulge in the stunning views of Playa Mujeres with, of course, a refreshing drink in hand.